24 Hours in Boston
This week has been a whirlwind! Halee and I had the best time on the east coast this week and it's time to share the first recap.
Today, I'm sharing what we did with just 24 hours in Boston. I partnered with The Element Hotel which is actually designed as an extended stay hotel and it was truly beautiful. Had we been there for a bit longer, it would have been easy to take advantage of the kitchen.
The hotel has a few unique features that I wanted to share. First of all, the rooms have a "master light switch" placed right by the door which makes it easy to turn out all the lights in the room before you run out the door. The Element is a "green" hotel meaning that conserving energy is one of their top priorities.
Breakfast at The Element is complimentary with gluten free and dairy free options. They also have a cocktail hour with beverages and some perfect snacks that are great before dinner. And last, but certainly not least: the beds. Holy wow you guys! I haven't slept through the night in I don't know how long, but I didn't even move that night. It was literally like sleeping on clouds.
Conveniently, The Element is located in the Seaport District just a few blocks away from great restaurants, the Freedom Trail, Fenway Park, and so much more. We took an Uber almost everywhere because that was just easier for us since we didn't have a ton of time. Below, you will find photos and descriptions of everything we did.
The Element Hotel
I highly recommend The Element Hotel for your next stay in Boston. If you want to check them out and see more photos and amenities, click here.
Bleacher Bar at Fenway Park
This was our first stop when we got to Boston. We were starved so food was necessary. I'm not a big baseball fan, but Halee is so she was excited. I have to say, this was so cool even for me and knowing nothing about the sport. I went to a Yankees game in NYC, but that's about the extent of my baseball experience. We sat at a table in Bleacher Bar where we could actually see the field and it was amazing. Plus I had the best hot dog of my life.
Green Sweater (use code STEPH10, will be restocked Sunday, Oct 8) || Liberte Tee || Ankle Jeans || Steve Madden Wedges || Black Tote
Afternoon Tea at The Courtyard
The Courtyard at The Boston Public Library does a beautiful afternoon tea. I have to be honest in saying that this was suppose to be a collaboration and apparently there was some miscommunication on their end so that was a bit frustrating. However, it was worth the experience. I was pleasantly surprised that they had gluten free options for the desserts and finger sandwiches. I would recommend this, but just be prepared to pay $40 per person.
Striped Dress (use code TRENDY10 at checkout through Oct 9) || Steve Madden Wedges
The Freedom Trail
You might know that Boston is filled with rich U.S. history. They have this trail that you can walk throughout the city to see some of these historic sites including Paul Revere's home. In order to do The Freedom Trail the right way, you might want to take a guided tour. The trail can be pretty easy to loose.
Lit Boutique
I had the opportunity to partner with a local boutique called LIT. They have some really cool, edgy pieces and some pieces for the everyday consumer. I will do a full post on them next week, but for now, here are some sneak peek photos for you.
Harvard University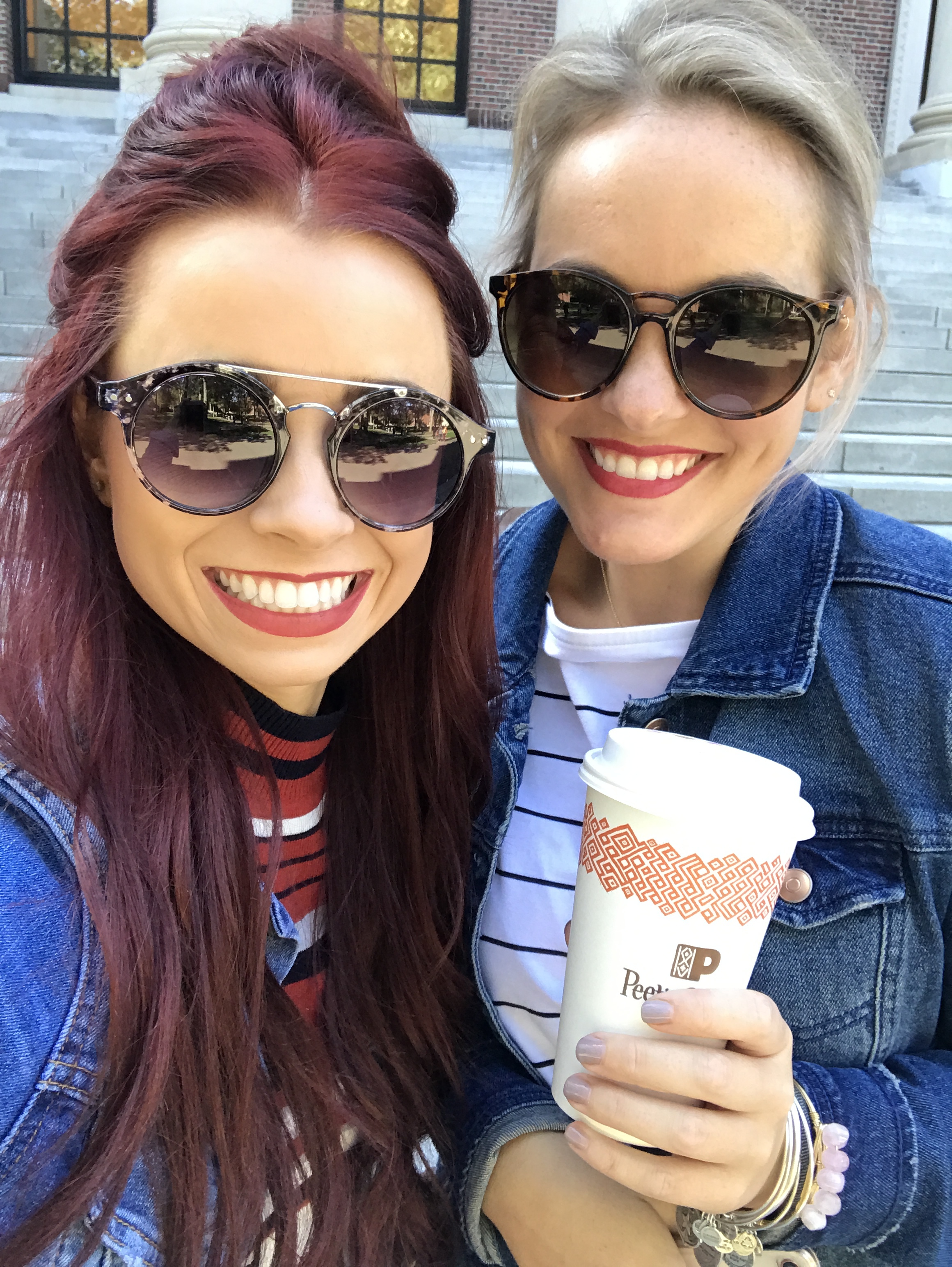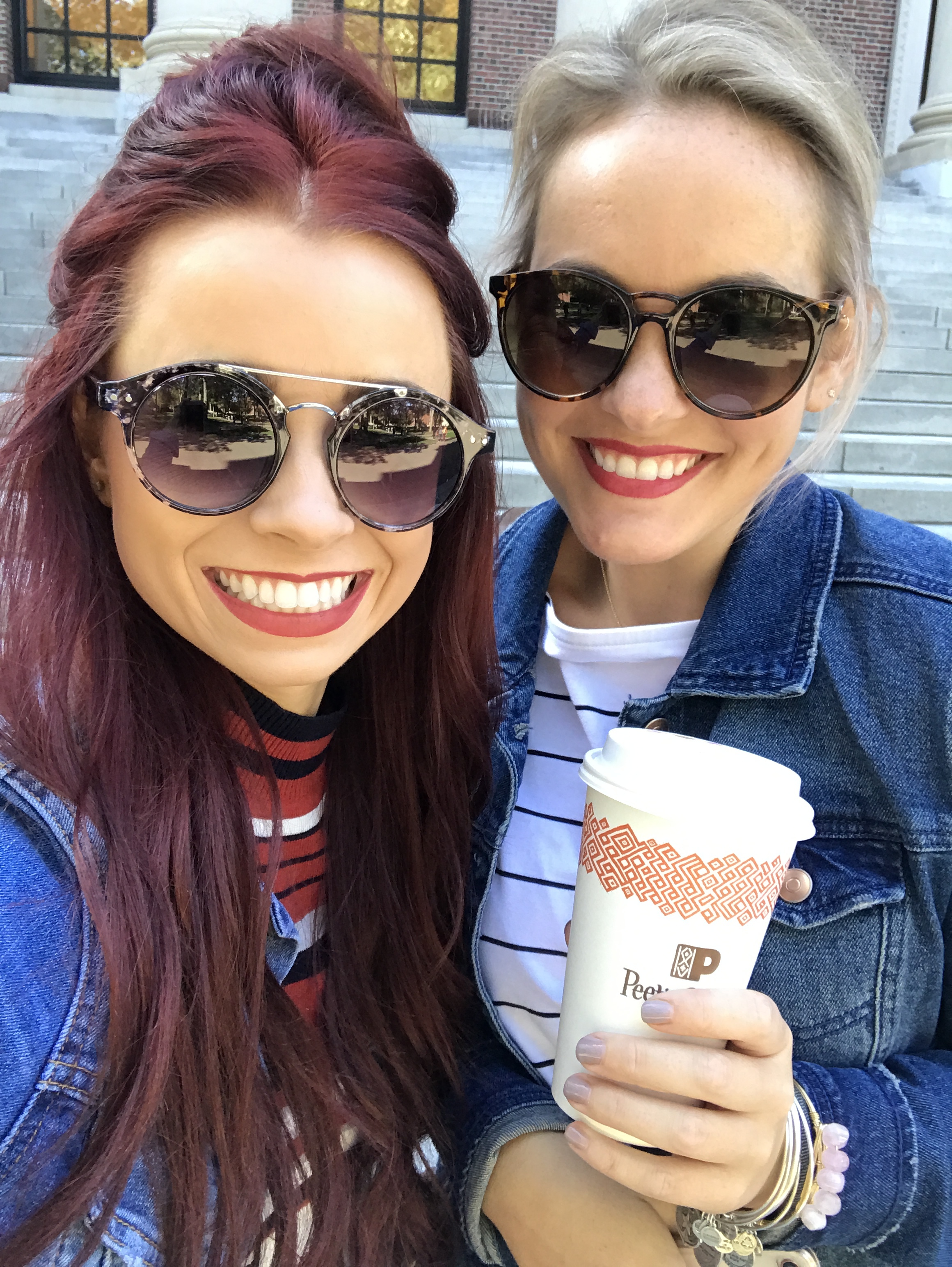 Halee got to live her Rory Gilmore dreams at Harvard and I just enjoyed being on campus. It was truly beautiful to see. We had coffee and chai tea at Pete's and just wondered around. We only had about an hour to spend there, but I would highly recommend at least half a day. There is so much to see and explore.
We also had dinner at Legal Sea Foods. DELICIOUS. I would definitely recommend this, but Boston has so many amazing restaurants so you really can't go wrong.
Boston is a really great combination of Chicago and NYC. It's less hectic than NYC, but still has the city vibe and some great history. It's on my list of cities to revisit and spend more time.
Have a great weekend guys!
xo,
Steph