Weekend Getaway in Chicago with W City Center
They say that 25 is the last big milestone before 30, but I've always believed that every birthday is a milestone and a reason to celebrate.
I spent my 25th birthday in Chicago which also happened to be St. Patrick's Day weekend so we were in for a crazy few days filled with every shade of green and some luck along the way.
I partnered with W City Center for a great stay in the financial district downtown Chicago. Surprisingly, I haven't spent a ton of time in the windy city even though we are just a short three hours away. The hotel location was near Willis Tower which worked out well because the Sky Deck was on my must-do list. Read below for more details on the hotel, what we did, and a few restaurants I'd recommend.
Where we stayed in Chicago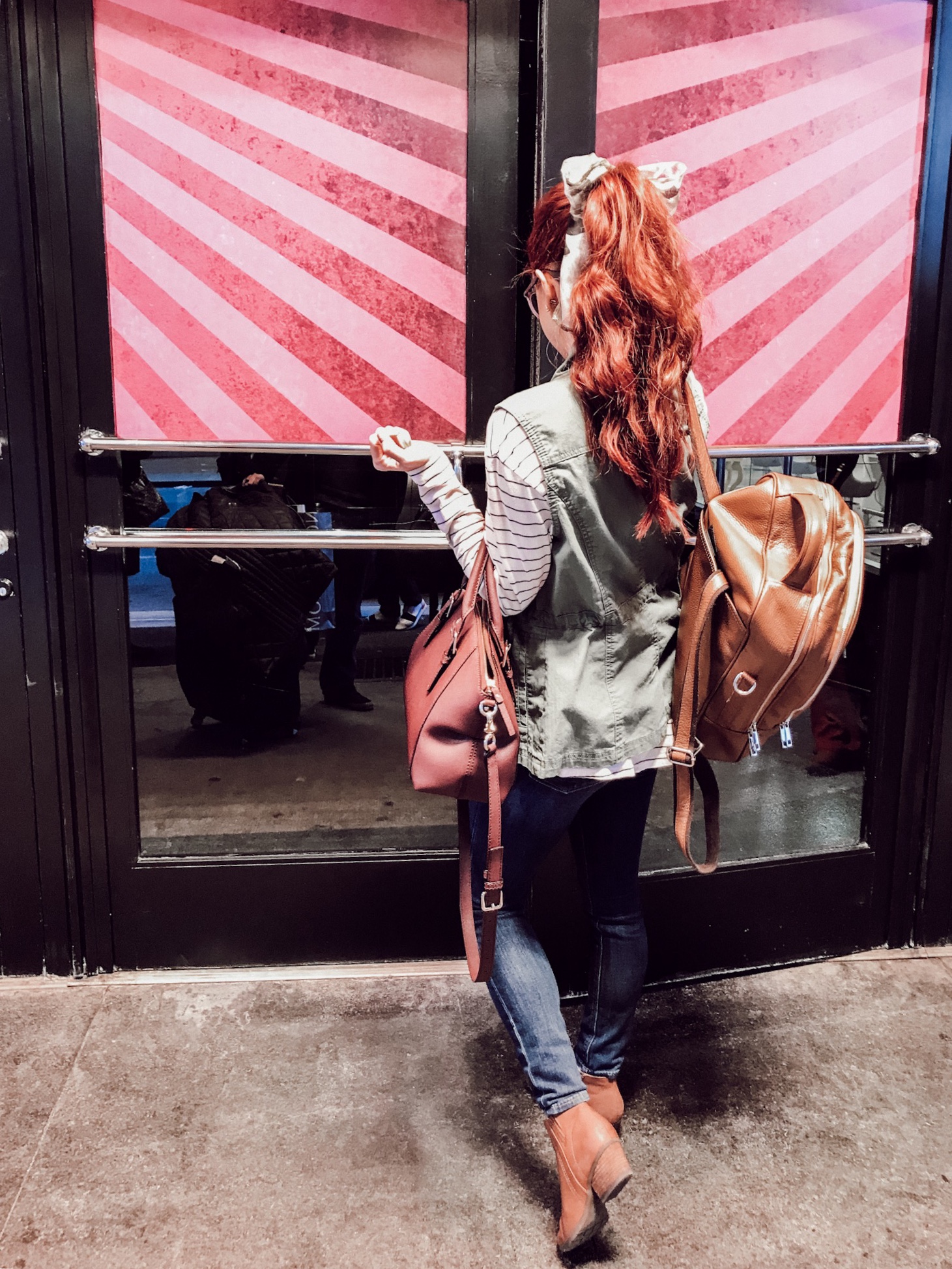 The W City Center hotel had just undergone a bar renovation that opened on Saturday morning of our stay. This bar was so dreamy. It has this sophisticated, modern vibe that flows perfectly with the overall hotel brand. The drinks were average hotel prices for alcohol, but I savored every sip of my Riesling.
Collin and I were both surprised by how quiet our room was for being in the city. That might have had something to do with the fact that we were a few blocks away from the hustle and bustle, but we appreciated the lack of city noise. The room was quaint with a comfortable bed and excellent mirror lighting in the bathroom.
The hotel also offered dining options near the bar area which we didn't have time to enjoy, but the food looked amazing. We were able to walk to the river, Michigan Avenue, and Millennium Park from the hotel. Uber was also readily available for our longer adventures. Overall, I'd recommend W City Center for a long weekend because it will allow you to experience the heart of Chicago but gives you a place to rest before your ventures the next day.
Where we wined and dined in Chicago
Gibson's Steakhouse
This well-known steakhouse is located in the Gold Coast neighborhood which we learned is one of the wealthiest in the states. But don't let that stop you from trying this place out. If you've been to St. Elmo's the prices are comparable if not less. The sides are a la carte and large enough to share so my good friend Emily and I shared a 10-ounce filet, a sweet potato, and baked potato. Collin enjoyed a prime rib with hash browns. Collin and I each enjoyed a drink, and all for around $110 including tip. Our waiter actually brought a platter of uncooked steak to our table before we ordered to explain how the meat is prepared which was a unique touch. I'd definitely recommend this if you're searching for an upper-class dining experience.
Sparrow
After dinner at Gibson's, we wanted to find a quiet place to enjoy drinks. After stopping at three bars, we thought this task might be impossible until we came across Sparrow in the Gold Coast neighborhood. They had plenty of seats for four, it was quiet, but classy so we stayed. After some research we discovered that this bar is inspired by the 1930s hotel lobby bars and was recently restored after 75 years. This intimate bar focuses on rum-based cocktails, but also has a wine and beer list. It's one I will definitely be revisiting on my next Chicago trip.
Lyfe Kitchen
On St. Patrick's Day, we wondered around the city for a place to grab brunch after the river turned green. We weren't necessarily feeling the bar scene, but every place was packed. I wanted to try Beatrix, but the wait was nearly two hours. We walked by Lyfe Kitchen, saw that they served breakfast food and had open seats, so we stopped. They have farm to table food and it was good for a quick, healthy bite.
Summer House Santa Monica
My good friend Halee recommended this perfect spot in the Lincoln Park area because she knew I'd love it. Not only did they have an extensive gluten free menu, but they also have the perfect beachy vibe. It was an absolutely beautiful setting where we enjoyed California rolls and drinks to start. I ordered the rainbow trout for dinner and Collin had chicken tacos. On our way out, we grabbed a giant, delicious gluten free cookie at the treats bar. This is on my list for the next time we visit Chicago.
Eggy's Diner
On Sunday morning, we met my friend Grace for breakfast. She'd never been to Eggy's but had heard great things, and everything was true. This is the cutest diner in a great neighborhood. The menu is massive and included gluten free pancakes. I was basically in heaven and Collin was happy they had skillets. If you go on a weekend, just make sure to hit it up before 9:45am or be prepared to wait.

What we did in Chicago
Chicago River Walk
When we arrived, we thought it'd be fun to figure out the area so we walked north about 15 minutes to the river. We walked down a few flights of stairs and walked east toward Michigan Avenue. I can't wait to go back this summer to take a river cruise and walk along without my winter coat.
Millennium Park
I'd never seen the infamous reflecting structure referred to as "the bean" or "the cloud" so we strolled to Millennium Park from the river. It is neat to see and I can only imagine what the park is like during concert season. I'd love to spend more time just strolling the park.
Sky Deck Chicago
This might have been the coolest "experience" we had in Chicago. After purchasing our general admission tickets for $24, we took an elevator up 103 stories to the top of the Willis Tower. The views on a sunny day are breathtaking. We then waited in line to venture into those glass boxes you've seen all over Instagram. I'll be honest, I was terrified. What if it somehow shattered or dropped? You know all of those crazy thoughts, but I did it anyway and it was amazing.
Laugh Factory
I've always been a fan of standup comedy. I learned to love it when I lived in NYC and visited the Comedy Cellar almost every weekend. This is an experience we actually didn't have planned. A couple came up to us at dinner at Summer House Santa Monica, explained that they had a family emergency, and offered us their VIP tickets to the Laugh Factory. We graciously accepted and enjoyed a night filled with belly laughter. Some comedians were better than others, but this is something I'd recommend if you enjoy comedy.
Spending a weekend in Chicago was just what I needed to ring in 25 years of this wonderful life. If you get the chance to visit, try to do it when the weather is a bit warmer so you can enjoy the roof top bars.
Cheers to more adventures.
xo,
Steph
The W City Center provided a media rate for us to enjoy our weekend. Thanks for supporting the brands that support Trendy in Indy.