Our Trip to Zurich with 25 Hours Hotels
On Thursday morning, we boarded a flight to Zurich from Amsterdam with KLM. For the short one-hour flight, we were served sandwiches which should have been an indication of the niceties we were in for in Zurich.
OUR TRIP TO ZURICH
We climbed in a taxi that took us to Langstrasse where our 25 Hours Hotel was located. I wasn't exactly sure what to expect, but this facility exceeded the vision in my head. Upon being greeted by the friendliest hotel staff, we headed to our room on the fifth floor. The décor was ornate yet simple featuring a few books in German, concrete floors, and a bathroom with white subway tile that lined the walls. The shower was immensely spacious with one of those rainfall shower heads we all wish we had.
After unpacking, we headed to Bahnofstrasse where we'd heard the shopping scene was hot. Although we couldn't afford anything at Prada, it's fun to dream and look around. While wondering the streets of Switzerland, we stumbled upon this area with uphill cobblestone streets that lead to colorful concrete storefronts and restaurants. This path lead us to the river where we both stopped in awe of the beauty before us which was the Old Town.
We crossed a bridge anxious to find something to eat. After walking a few minutes through Old Town, at my request we found a café where we could eat outside and enjoy the river front view. We both ordered drinks, a Sauvignon Blanc from France for me and a local IPA for Brad. I ordered the grilled chicken accompanied by rice and vegetables, simple and something I knew I could eat. What I didn't know was that this would be an out-of-this-world kind of grilled chicken experience. I'm not entirely sure what kind of butter was on the chicken, but whatever it was made me fall in love with Zurich even more.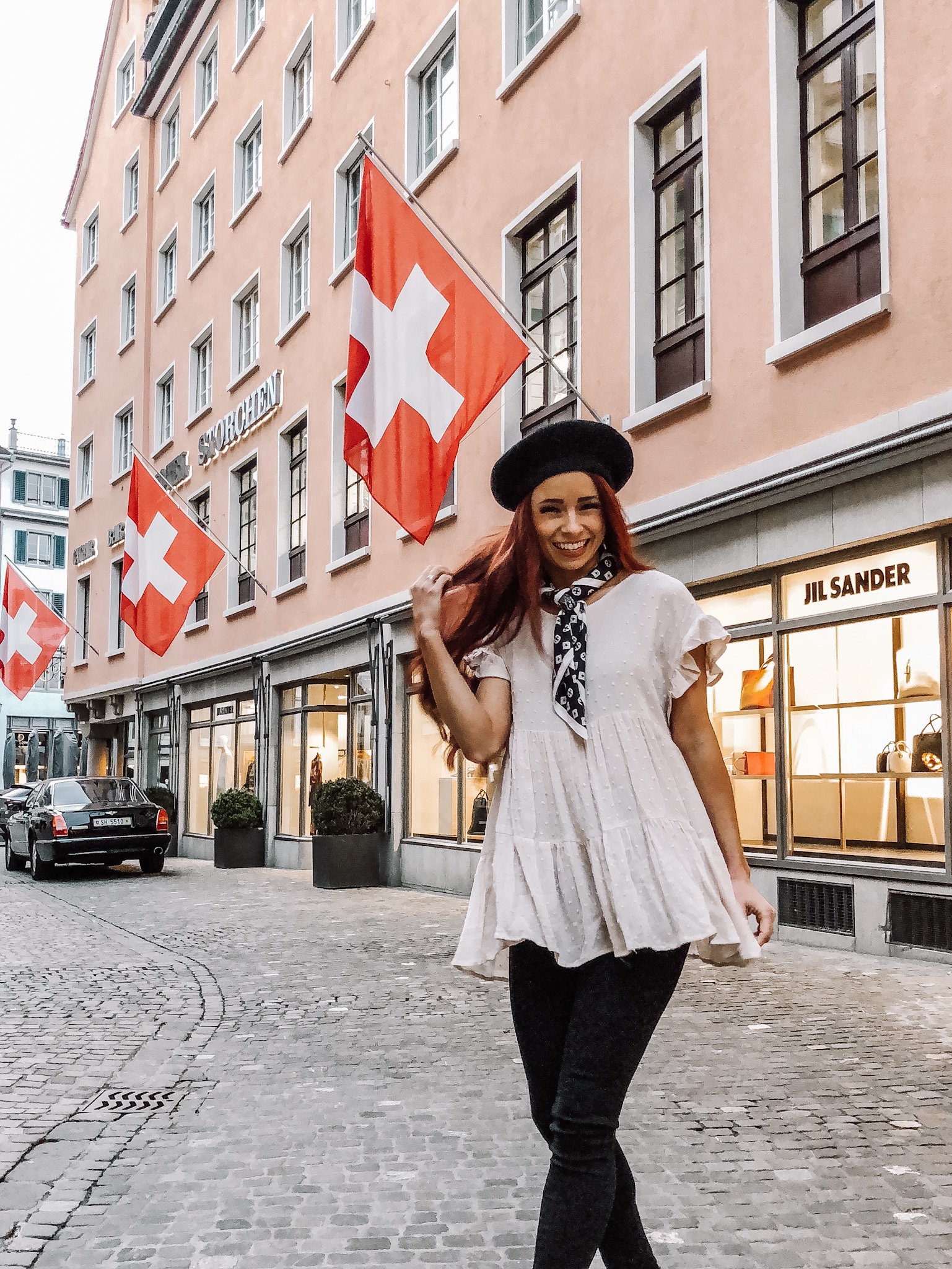 I wasn't leaving Switzerland without having fondue so I searched my Maps for "Fondue Nearby" which lead us to a restaurant up the street in Old Town. We walked to the menu and saw that a few tables had a pot of chocolate and fruit so we decided to go for it. About 10 minutes later, we were dipping strawberries, apples, bananas, and pears in a creamy pot of warm Swiss chocolate.
After a 20-minute walk back to 25 Hours Hotel Langstrasse, I slipped into my pajamas, my head hit the pillow, and I woke up 10 hours later to a view of the mountains above the city of Zurich.
On our only full day in Switzerland, we decided to hike Uetliberg. After struggling with the language barrier at the train station as nothing is in English, we took the S10 train from Zurich to Tremli which dropped us near a couple of trails. I'm traveling with my adventurous brother so the next hour or so was spent hiking around two miles uphill. When we reached the top, the pain in my shins disappeared as we looked down on the city of Zurich and onto the lake that disappeared into the distance. It was a view that takes your breath away and makes you thankful for the experiences this life has given you. After climbing several flights of stairs to the top of a lookout tower, snapping a few photos, and walking down the stairs, we'd worked up an appetite. Under the sun, we enjoyed the best Bratwurst and frites I'd ever tasted. We boarded the train down the mountain and headed back to our hotel.
At the hotel bar, we ordered two pre-dinner drinks and sat on a couple of comfy couches to plan our next move. We decided to walk to West Zurich where we heard the locals play and dine. We found a park with archway shops located beneath a large bridge that connects Old Town and the area where we were. We walked across the bridge and to a neighborhood that we compared to Broad Ripple in Indy. It was artistic and colorful with local restaurants to eat and drink. My guess is that Zurich was experiencing one of the first warm, sunny days of the season, so we walked to an area where we found people laying in their suits, a few daring enough to take a dip in presumable ice water.
For dinner Friday night we wound up in Old Town at an Italian restaurant that had gluten free pasta. At the server's suggestion, we each enjoyed a glass of red wine. Before heading back to the hotel, we stopped at the local grocery store, Coop, to grab some Swiss chocolate to take home to mom and dad.
We headed to our next country, but not before enjoying the hotel's complimentary breakfast buffet. Now the vision in your head is probably significantly different than the reality of the feast before us. The options were plentiful including freshly squeezed orange juice and grapefruit juice which I mixed. The scrambled eggs were fluffy and could be accompanied by a croissant of your choice, French toast, fresh fruit, and more.
Zurich is one of the wealthiest cities in Europe and that's apparent just by the smell in the air. The women smell of a delicate floral perfume while the men smell of the most masculine Axe products that linger in the air. If you've never been on a trip to Zurich it's important to know that their currency is Francs which is almost a one to one ratio with the U.S. dollar. The prices in general are more expensive, but like all cities, Zurich has affordable dining and lodging options. I'd also suggest brushing up on your basic German terms because English is less common and in general, it's good to know how to greet people in the native language.
Cheers to lavish stays with 25 Hours Hotels,
Steph
A note about 25 Hours Hotel Langstrasse: it was wonderful and I'd highly recommend it for your trip to Zurich. The bar and restaurant were always full at night making it a fun spot to stay. The beds were comfy, the room was beautiful, the view was astounding. All of the positive adjectives I could think of describe our hotel experience in Zurich. It's also located in a spot that allows you to explore a variety of neighborhoods in the city, plus it's close to the train station making travel easily accessible.