48 Hours in Amsterdam
Our European adventure is off to a beautiful start. We just finished up our first stop with 48 hours in Amsterdam and I'm including all the details here for you.
48 HOURS IN AMSTERDAM: THE BEST THINGS TO DO
Amsterdam is one of my all-time favorite European cities. It's clean, tolerant, picturesque, and just so fun. I also lived in Amsterdam for three weeks while I studied abroad so that helped me with being familiar with the city.
When you travel, it's important to remember the cultural differences in each city. For example, at many restaurants in Amsterdam, you seat yourself and will need to ask your waiter for the bill. Generally, people aren't as concerned with "hurry up and eat" like we seem to be in the states. It's much more laid back, although we are still undetermined on the tipping situation. We've left most waiters at least something, but there have been some that give us suggestions on what to do or are just overall friendly so we've actually handed them tips.
And as far as cultural differences in Amsterdam, you have the red-light district, pot is completely legal, and riding your bike as a main transportation is the norm. Coffeeshops aren't always just coffee. Whether you choose to walk through the red-light district or smoke weed, it doesn't matter, just be open minded while you're visiting.
So, what should you do when you spend 48 hours in Amsterdam? Here's what I recommend:
Take a canal tour. There are several ways to go about this, but Brad had several friends in Amsterdam while we were there too, so we rented a private boat for eight through Mokumboot. The city is built on canals and this is such a great way to see it. If you don't have a skilled sailor with you, I suggest doing a guided tour or renting a driver because the canal ways can get crowded and confusing as there are one-way entries and restricted areas.
Rent bikes. In a city that travels by bike, this is something you simply must do. I was a bit nervous because the last time I did a bike tour, I fell, and in a city where there are 650,000 bikers, it's intimidating. We rented from this place called Good Bicycle Rental for 10 Euros each for 3 hours. This is another great way to see the city and get around inexpensively. We biked to Vondelpark which is a beautiful green space in the middle of the city, highly recommend!
For nightlife and food, check out Rembrandtplein and Leidsplein. These are two areas with a ton of options that are lively any day of the week. One of my favorites was Café de Jaron near Rembrandtplein.
Visit the Anne Frank House. We didn't do this this time, but I did when I was abroad. It's something to experience, but it will take a chunk of your day.
Visit a museum. I'd suggest NEMO, Reijksmuseum, or Van Gogh. Both are interesting and allow you to experience Dutch culture.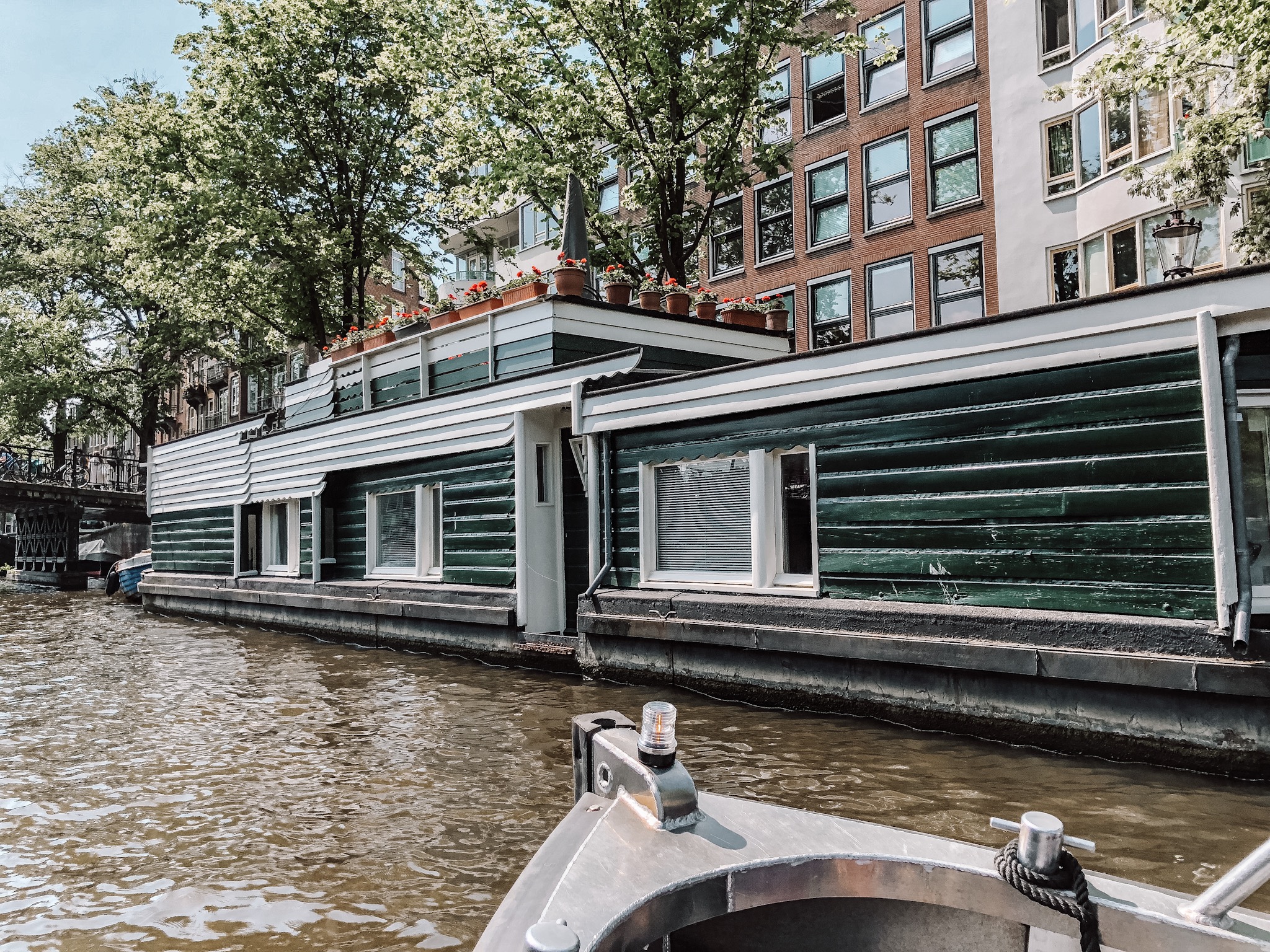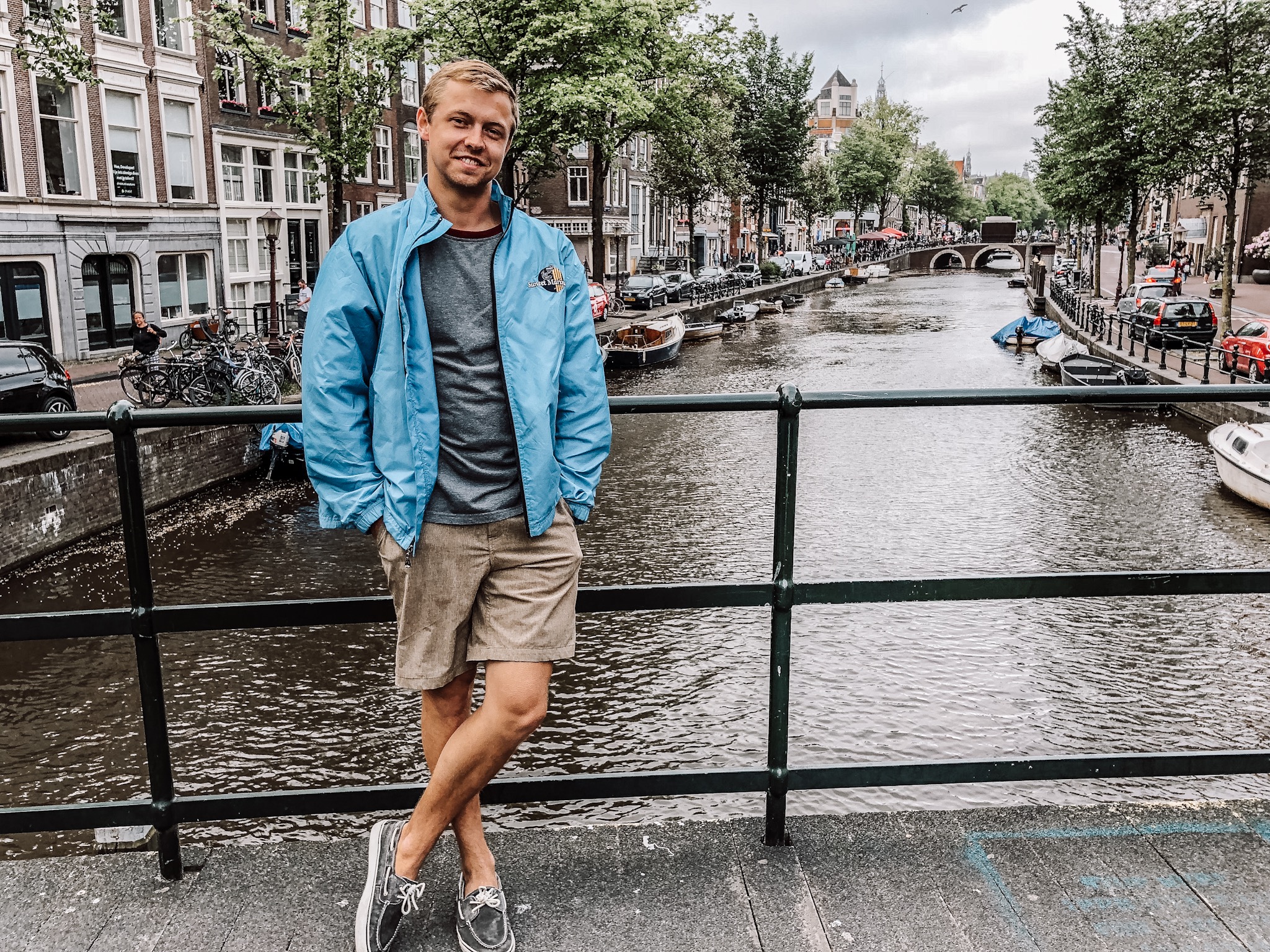 Other general Amsterdam tips:
If you're gluten free you will survive, but you'll be tempted by the churros, waffles, and pancakes. I found options I could eat everywhere.
You can take the train to and from the airport. We took a cab from the airport for 70 Euros. I mean don't get me wrong it was a Tesla with suicide doors, but the train is more affordable. You'll just have to walk to your hotel or catch the tram to near where you'll be staying.
Stay near Dam Square. This is basically the center of everything and you can walk almost anywhere in the city from there. We stayed at Hotel Rokin and it was nice. We had a smallish room compared to what we may be use to in the States and had to take our bags up a small spiral staircase which was interesting, but the view of the main road was perfect.
Pay attention. You can't be on your phone or taking photos while walking because you'll be hit by a bike, tram, car, or moped. Pedestrians are at the bottom of the totem pole and get out of the way for everything.
If people come up to you at dinner to try to give you something or sell you something, just ignore it and they will go away.
I'll say it again, be open minded. Immerse yourself in the culture and ask for suggestions on where to go. In general, most people are friendly and want you to experience the place they call home.
Utilize a map. The city is basically a semi-circle and it can be easy to get a bit turned around at first.
If you're planning a European adventure, Amsterdam should definitely be on your list. You can take a train or plane to other countries nearby.
Cheers to a great start and off to the next country, Zurich.
Steph